Teacher Feature: Heather Anderson
 And now these three remain: faith, hope and love. But the greatest of these is love.
1 Corinthians 13:13
Beyond the Classroom…. 
South Africa, a nation rip
ped apart by apartheid, is making a slow but deliberate recovery. One very special teacher is helping to heal this nation with a few school supplies, some very eager students and a whole lot of love. Meet Mrs. Heather Anderson, a pastor's wife (Mama Mfundisi in isiXhosa), a teacher and founder of Keep the Dream, (a project to solicit community support), who humbly considers herself just a "dabbler in many things."
"Many things" is truly an understatement. In Port
Elizabeth, South Africa, Mrs. Anderson's classroom consists of an entire community. Like any educator, she teaches young children to read and write, creates activities to help develop their motor skills and integrates the arts to keep them engaged. However, her teaching job extends beyond the walls of the classroom. She also teaches her students' parents a variety of life skills, (including reading), and helps find them employment.
She teaches, "Whatever needs to be taught" to members of her community, looking to learn.
 Faith…
"Whether this is teaching faith or reading, someone has to go (to Africa). I read about what is happening in South Sudan and I am grieved more than I can say… students clamoring to learn but no facilities or teachers to teach them. It is a privilege to be an educator- no greater calling and I believe it really is a calling because there are no tangible rewards in many cases."
Recently, Mrs. Anderson arranged for her students and their parents to visit the local library. Some of the adults had never been in a library before and were shocked and amazed to see the sheer number of books available for borrowing. They watched in delight as the librarian read books to their children, orchestrated art activities and emphasized the importance of reading.
The librarian explained how reading will elevate their children out of poverty.  For the first time, parents used library cards to check out books for their children. As much as this simple activity has helped the parents, it is the children who will reap the greatest benefits.
  Soon, Mrs. Anderson plans on taking young women on their first hike up a mountain. She will teach them how to prepare, what to bring, how to follow the trail and how to face unexpected challenges. Her goal is not just keeping her students engaged with real-world, hands-on learning activities, but to teach them to depend on themselves, to depend on each other and to know that each one of them, "has worth and can achieve success just like any other person."
With support from members of the community, Mrs. Anderson can continue to provide experiences that teach her students self-reliance, but, most importantly to have faith in each other. Faith that inspires, motivates and provides reassurance to the impoverished.
 Hope…
The education system in South Africa is broken. Students are desperate to learn but there are no facilities, very little supplies and even less teachers. The South African people have put pressure on the government to provide free education but that usually yields less-than-qualified graduates. Any funding from the government gets lost in bureaucratic red tape and leaves desperate communities floundering for resources. Sometimes their only hope is a teacher with a calling to serve.
Mrs. Anderson has grieved over what seems hopeless, yet keeps hope alive through her work. She finds time to teach anything her students want to learn, from fun topics like crochet and cake decorating to life-saving lessons in nutrition and hygiene. She finds creative ways to integrate the arts and culture into her lessons to encourage a sense of pride in her students. In addition to her job-placement courses, she teaches a Little Lambs pre-school class to prepare young learners for placement in a private school, and a reading course to prepare 45 young readers for first grade. In a hopeless educational community, Mrs. Anderson is seeing results. She has had great success in placing her older students into higher-paying jobs and her Little Lambs in the private school of their choosing. She is determined to have all 45 students reading before they enter first grade. Like most teachers, her rewards are not tangible, but they are powerful and responsible for keeping hope alive.
 Love…
"The smile on a child's or an adult's face when they "get it" still is the greatest thing about being a teacher. That one "fireworks moment" when learning takes place and you know that you were a part of something great."  
Mrs. Anderson is absolutely part of something great. Years ago, when she and her husband opened their church in the township of Gugulethu, the people were on the brink of starvation. She put programs in place designed not only to teach, but also to weave love and compassion through her work.
The economic situation in the township began to improve. In less than 10 years, the community was self-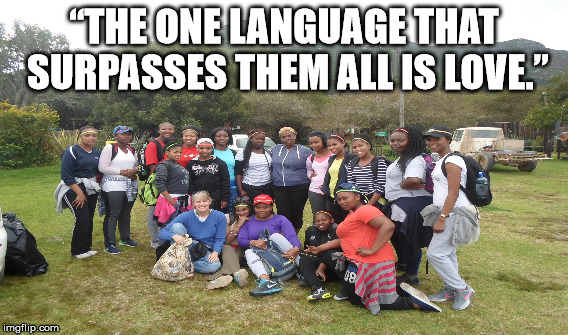 sufficient. She is too humble to take much credit for the change. Her faith gives her strength, guidance and fills her heart with enough love for a whole township.
Teaching has a profound affect on her heart. As she develops lessons and provides learning opportunities for all people in Port Elizabeth, communication is not always easy.
"I want "my kids" to know that I love them and am committed to them. In their culture many are not raised by their mom or their dad but by some relative that can care for them. They are often shifted from one place to another and find people leaving them again and again. I am determined to be the one who stays… consistent, faithful, loving, and speaking positively about them and to them."
Dream…
Mrs. Anderson is a graduate of Cornell College and received her secondary teaching degree from Southwest Texas University. She finds inspiration to continue her work through her father, a special high-school teacher, and her faith in God.
"My husband is the pastor of a church called The Potter's House Christian Church in Port Elizabeth South Africa.  Under that umbrella I have started a project called 'Keep the Dream'.  I use this project as a means of communicating with the general community in obtaining various materials/support to use in teaching our typing, computer, pre-school, reading classes and general life skills classes.  I find that, for the most part, the community is very keen to assist the poor in obtaining skills and education to improve their lives. We open these classes up to the general public and trust that our testimony in presenting and participating in the classes will allow them to see Christ in us and encourage them to find Him as well."
She, along wit
h her husband, have moved The Potter's House Church and the Keep the Dream project to Port Elizabeth where they are experiencing the joy of transforming another township.
With few resources and big challenges, Heather Anderson and her husband are doing their best to eliminate poverty and empower the people of South Africa.
Mama Mfundisi, thanks for dreaming big! You are an inspiration for all teachers!
The next Teacher Feature could be YOU!
For more inspirational stories on teachers that are making a difference in the community and the world, check out our other Teacher Feature blog posts. Do you know someone who is an excellent teacher that uses ingenuity, talent, and raw guts to face the unique challenges of teaching? If so, contact us. We love to honor great teachers! Keep up the good work, everyone! It's almost mid-terms!!
The Teacher's Academy provides affordable and convenient professional development courses for busy teachers. Check out our Course Catalog to get started on your professional development today!